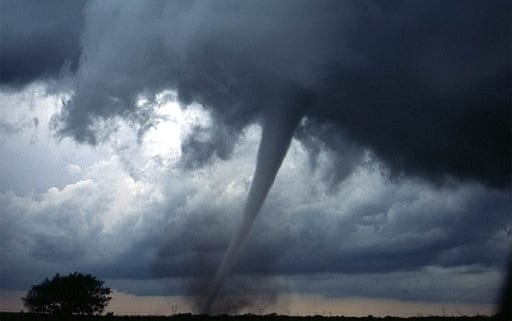 Staying Safe In Bad Weather……Tornadoes
We all know how damaging tornadoes can be.  In order to stay safe during one, there are certain safety measures we
need to take.  What about if you are at home when a tornado happens, what are some steps you should take to stay safe?
Here are a few ideas:
When it comes to any emergency situation, its important to have a plan put in place ahead of time.  For example, its wise to have a disaster supply kit, this should contain all you would need for at least three days immediately following a disaster.  It is also good to know the location of the closest storm shelter.
If the weather forecast shows a high risk for tornadic activity in your area, if you have time, move away furniture from windows and take down mirrors and pictures from walls.  Its important to have larger items like cabinets and bookshelves secured to the walls with brackets (this is a wise thing to do in general as it will prevent tip over hazards).  Turn off electricity and water at the mains which will help prevent fire and further damage.
Have you looked through the house to determine the safest area to shelter?  The safest areas are places without windows and interior rooms that do not have any exterior walls.  An ideal place is usually the bathroom because pipes and fixtures give added support to walls and floors.  Areas that are not good to take shelter are rooms with many windows.  Do not shelter underneath rooms that have a lot of heavy furniture.  If a floor is weakened, any heavy objects could fall through to the floor below, injuring anyone underneath.
If you know a tornado is in your area, take shelter immediately.  Do not assume it will be nothing.  Having a plan ahead of time will help to keep you safe both during and after a tornado.
https://www.topchoice-homeinspections.com/wp-content/uploads/sites/62/2018/06/tornado-572504__340.jpg
340
512
topchoice
https://d3bfc4j9p6ef23.cloudfront.net/wp-content/uploads/sites/62/2018/11/15180151/TopChoiceHomeInspections-logo-web1.png
topchoice
2018-06-15 10:00:11
2018-11-29 23:17:13
Staying Safe In Bad Weather……Tornadoes