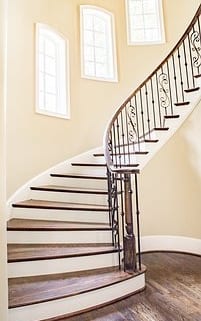 For those of you who live in a home with more than one story, you will be used to going up and down stairs many
times throughout the day.  Although this is an action we don't even think about doing, stairs are accountable for many accidents in the home, particularly with the elderly, handicapped or young children.  Even visitors who are not aware of specific irregularities to do with your stairs, could also be at risk.  So, what are some issues with staircases that can occur?
If carpeting on stairs becomes loose, this can be very unsafe.  Fix loose carpet with carpet tacks or double-sided tape as soon as you discover the problem.  On the other hand, if the stairs are wooden and have been over waxed, this is a slipping hazard.
Sufficient lighting plays a big part when it comes to the safety of a staircase.  If the area is not lit up properly, this could lead to tripping or falling, particularly for those who are elderly whose eyesight might be failing.
Stairs that are not of equal height also cause problems and can easily cause someone to fall down or even trip up them.  The same thing can happen if the stairs are too steep also.  If handrails and bannisters become loose, this is also a danger.
Outside steps can also become perilous if they are not sloped the correct amount so that water can run off them.  This is especially the case in cold seasons where ice can form on the steps.
Yes, as we are well aware, stairs are an important part of the home, but it's vital that they are kept in good order and are safe to use for your household and your guests.
https://www.topchoice-homeinspections.com/wp-content/uploads/sites/62/2018/05/luxury-real-estate-1689964__340.jpg
340
201
topchoice
https://d3bfc4j9p6ef23.cloudfront.net/wp-content/uploads/sites/62/2018/11/15180151/TopChoiceHomeInspections-logo-web1.png
topchoice
2018-05-04 14:10:04
2023-02-04 16:15:33
Staircase Hazards